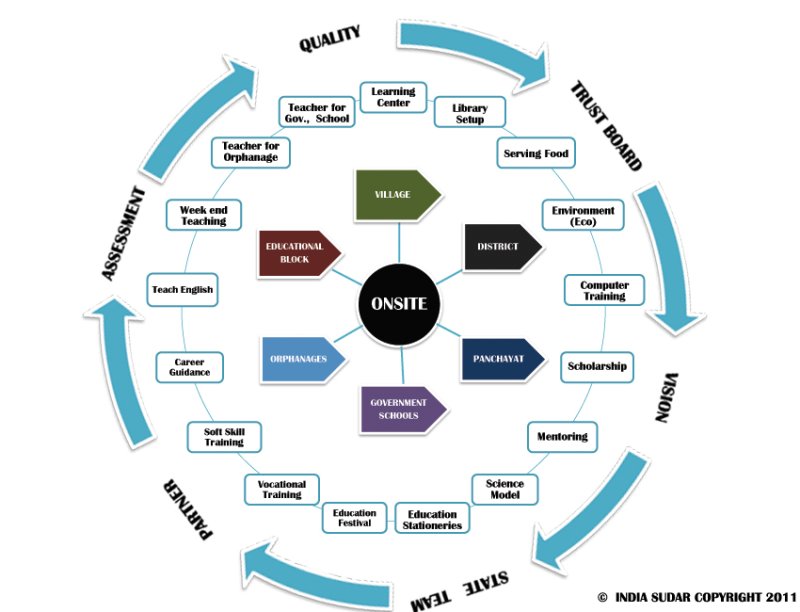 India Sudar Solution(Project) to elevate India through education.
Code
Project Name
Project Photo
Project Description
1

Deploying Teachers

Deployment of teachers for selected village schools, orphanages, tuition centres (India Sudar Tuition centres), Computer centres(India Sudar computer training centre) to provide consistent and continuous educational training.

2

Education Stationaries

Providing books, notes, stationeries, school bags, school uniforms and shoes for every academic year.

3

Provide Training

Conducting seminars, self-development programs, cultural programs, quiz programs and career development programs.

4

Education for Individual

Providing complete education aid for one academic year for one student.

5

India Sudar Computer Training Center

Providing complete training through India Sudar Computer Training Center at free of cost.

India Sudar having five Computer Training Centers in Villages to provided Computer Training to Poor and Orphan students at free of cost.

6

India Sudar Library

India Sudar Book based Library & India Sudar Digital Learning Center.

7

Serving Food

Providing food for students.

8

Education Environment

India Sudar plants a tree for each project and ensures that trees will be taken care by the project beneficiary.
Powered by India Sudar Educational and Charitable Trust
Copyright ©2004 - 2020